5 Things To Remember When You're Hiking In British Columbia
Hiking in British Columbia is pretty epic. Afterall, it's the epitome of outdoor adventure. From mountain hikes and forest foraging to river rafting and sound kayaking–there's a perfect adventure for everyone. My primary focus this summer has been exploring the peaks that surround me in the Sea To Sky Region in BC's southwest. Here, the ocean abruptly gives way to towering peaks marking the start of one of the most glaciated ranges in the world. Trust me, there's a reason they call it "Beautiful BC."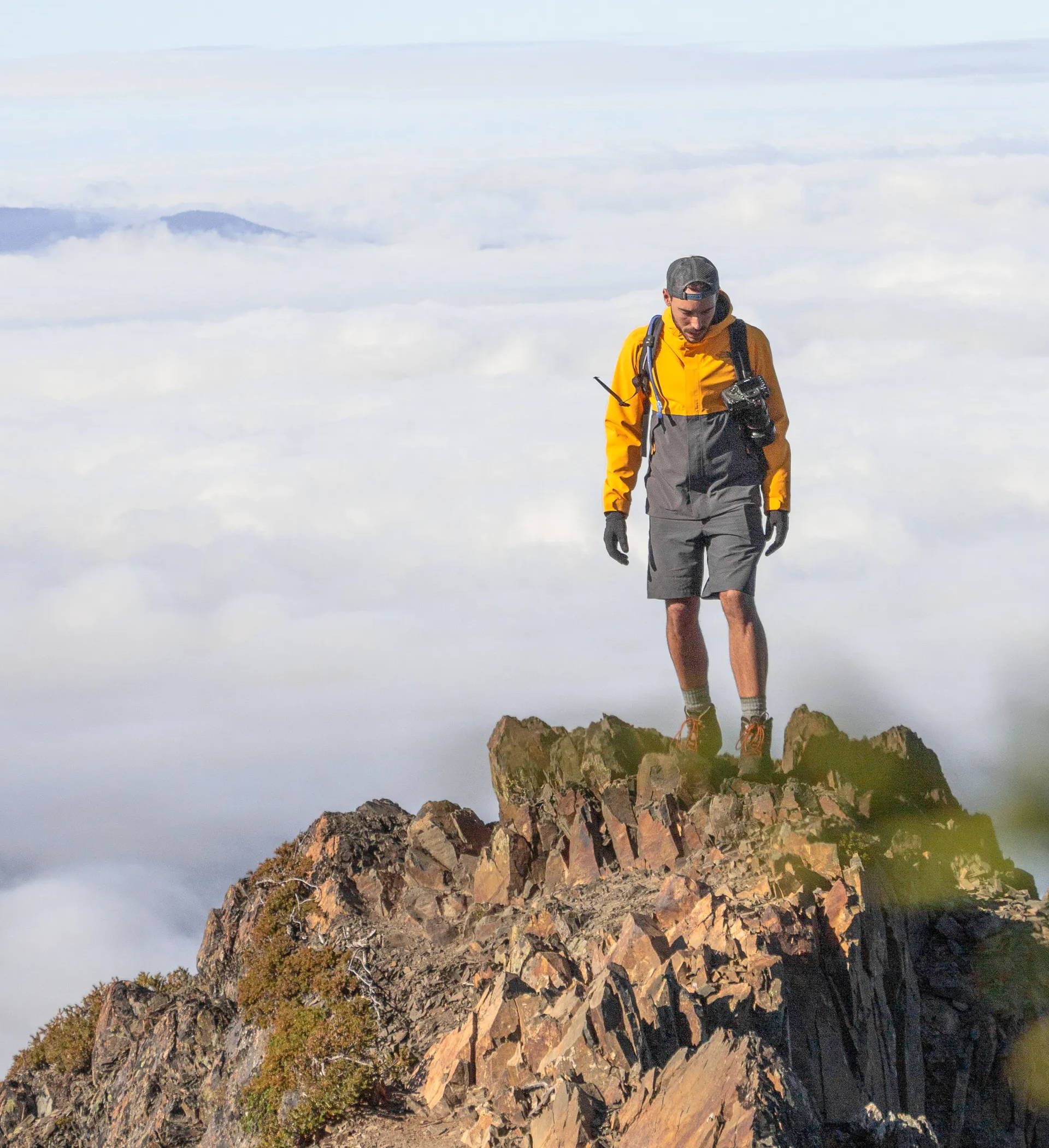 I thought I'd share "5 Things To Remember When You're Hiking In British Columbia." Check them out if you're planning an adventure here and let me know if you'd like any additional recommendations.
Where is British Columbia?
British Columbia is Canada's westernmost province and borders Washington, Idaho and part of Montana to the south, as well as Yukon to the north. It covers an area four times the size of the Great Britain and is home to a number of ranges, including the Coast Mountains, Columbia Mountains, and the Canadian Rockies. BC also has five UNESCO World Heritage Sites, seven National Parks and over 400 Provincial Parks, recreation sites and conservation areas. Incredible, right? There are so many beautiful areas perfect for hiking in British Columbia!
Why Should You Go Hiking In British Columbia?
What attracts me most about exploring BC is the sheer variety of terrain that exists. You'll find temperate rainforests home to towering cedars, stunning wildflower meadows, shingle-laden peaks, and even arid, desert-like expanses. This beautiful province is also home to an array of native wildlife. Black bears, golden eagles, elk, moose, beavers, and cougars are just some species that we share the land with. At the coast, there are seals aplenty as well as orca, grey whales and humpback whales. If you're looking to go hiking in British Columbia, you have the option to choose from a simple, relatively quick out-and-back to a multi-day (or even multi-week!) thru-hike.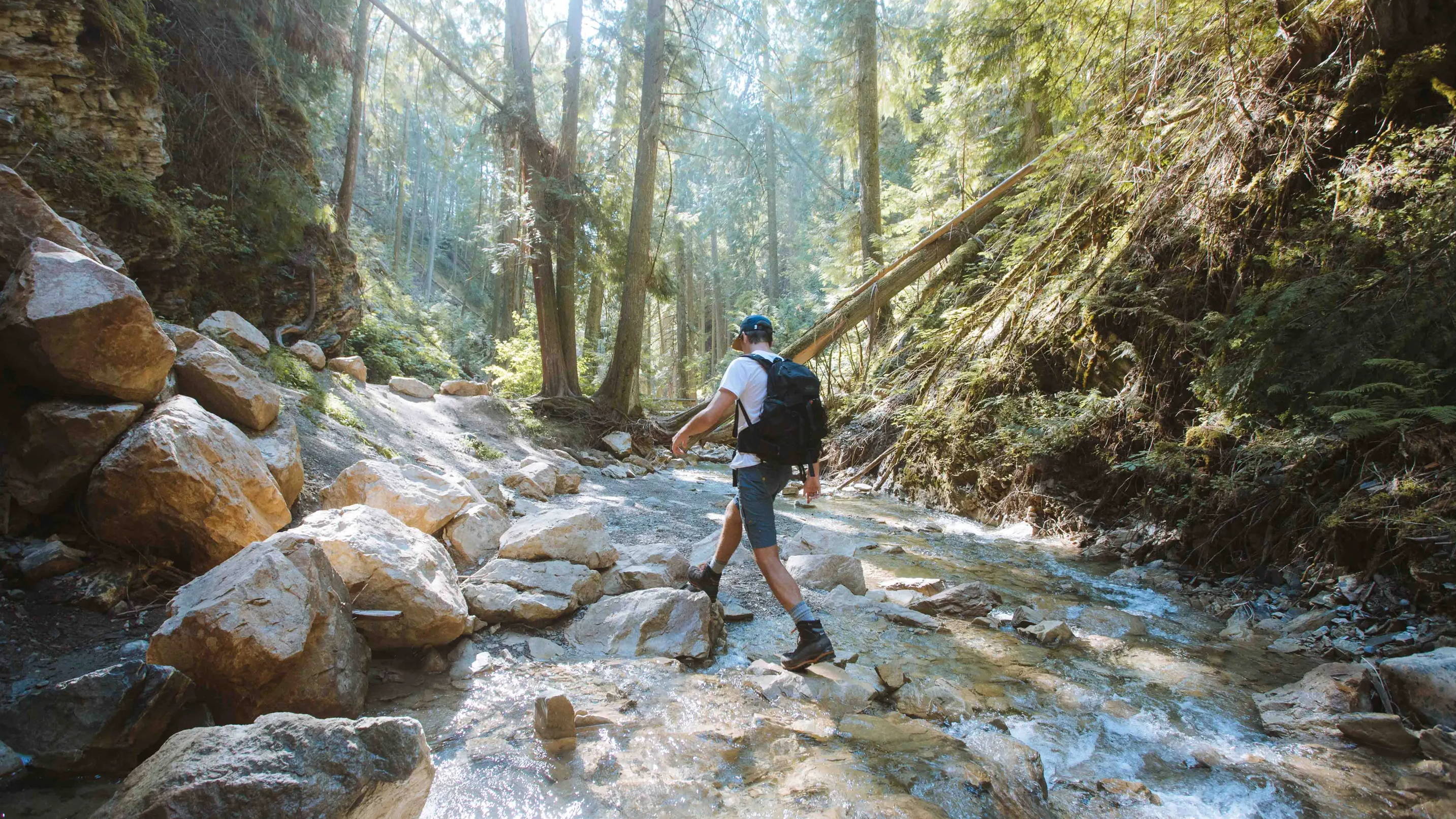 5 Things To Remember When You're Hiking In British Columbia
1. Do Your Research
You may be tempted to visit one of British Columbia's more well-known trails because perhaps you saw it on Instagram. It's great that you're keen to explore, but bear in mind that social media doesn't necessarily represent reality. A hike such as Panorama Ridge, for example, is a long 30km slog with 1,520m of elevation gain. I can't tell you how many people I've passed on the trail who have had to bail because they were ill-prepared and/or not physically able to face it. Ensure that you do your research before hiking in British Columbia:
Check the weather
Check the trail conditions
Does the trail require you to get a day-use permit?
Is the trailhead easily accessible?
How much water do you need? Do you have a way to filter water on the trail?
Is everyone in your party physically up to it?
For route planning, I like to use VancouverTrails.com if I'm hiking close to home. Otherwise, Destination BC has a site packed chockful of resources ideal for your BC adventure.
2. Be Prepared And Stay Safe
Do you have bear spray in the event of an animal conflict? Do you have bug spray (our trails can get pretty buggy at certain times of the year)? Do you have enough water and adequate footwear? There are several factors to consider when hiking in British Columbia. A really great resource is AdventureSmart. They provide a list of essentials specific to hiking as well as links to additional information on topics such as mountain navigation, trip planning, and what to do if "911" is not available. Leave a trip plan with a loved one and outline the route you will take and what time you expect to be back.
3. Recreate Responsibly
Please help to keep British Columbia beautiful. Be sure to pack-out whatever you pack-in, and obey any signage that you may encounter. Respect wildlife–don't be tempted to feed animals and brush up on your bear aware knowledge. Be considerate of other trail users. The outdoors is for everyone and excessive noise, uncontrolled pets and damaged surroundings take away from its natural appeal. If you're hoping to build a campfire, first ensure there is no fire ban in place. Try to use designated pits or rings and burn the fire for only as long as you need it. Do not leave a fire unattended.
4. Explore Further
For many visitors, hiking in British Columbia means Instagram hot spots and highway-adjacent trailheads. My recommendation would be to explore further. If you have access to an all-wheel drive with good clearance, consider adventuring up one of our many forest service roads (FSRs) to discover a lesser-known trail. Backroads Map Books are a great resource and can be picked up at any one of many local outfitters. I recognize that not everyone has access to a 4 x 4, so my next recommendation would be to plan your hike away from weekends and public holidays. Arrive early and have an amazing day!
5. Support Local
Hiking in British Columbia is largely made possible by a number of dedicated volunteers. BC's Search & Rescue (SAR) Association is integral to ensuring everyone gets home safe. There are 78 SAR groups in BC and between them they respond to 1,900 incidents per year. Other volunteer organizations worth noting include the Friends Of Garibaldi Park, who maintain the trails in one of BC's busiest Provincial Parks, and Gwaii Haanas Field Unit which assists with whale monitoring and beach cleanup.
When you're not busy hiking in British Columbia, please consider supporting one of our local businesses whenever you can. Remember: your support doesn't have to be monetary! Just "following" and engaging with a local organization on social media has benefits to the business. Even if you're just buying a coffee, for example, perhaps you can spare 5 minutes to leave the coffee shop a review?
Go Explore!
I hope you found this post useful, and I hope it's inspired you to enjoy hiking in British Columbia, Canada. There's something special about the Pacific Northwest that BC so effortlessly encapsulates. Whatever the time of year, whatever the weather, get out there and go explore!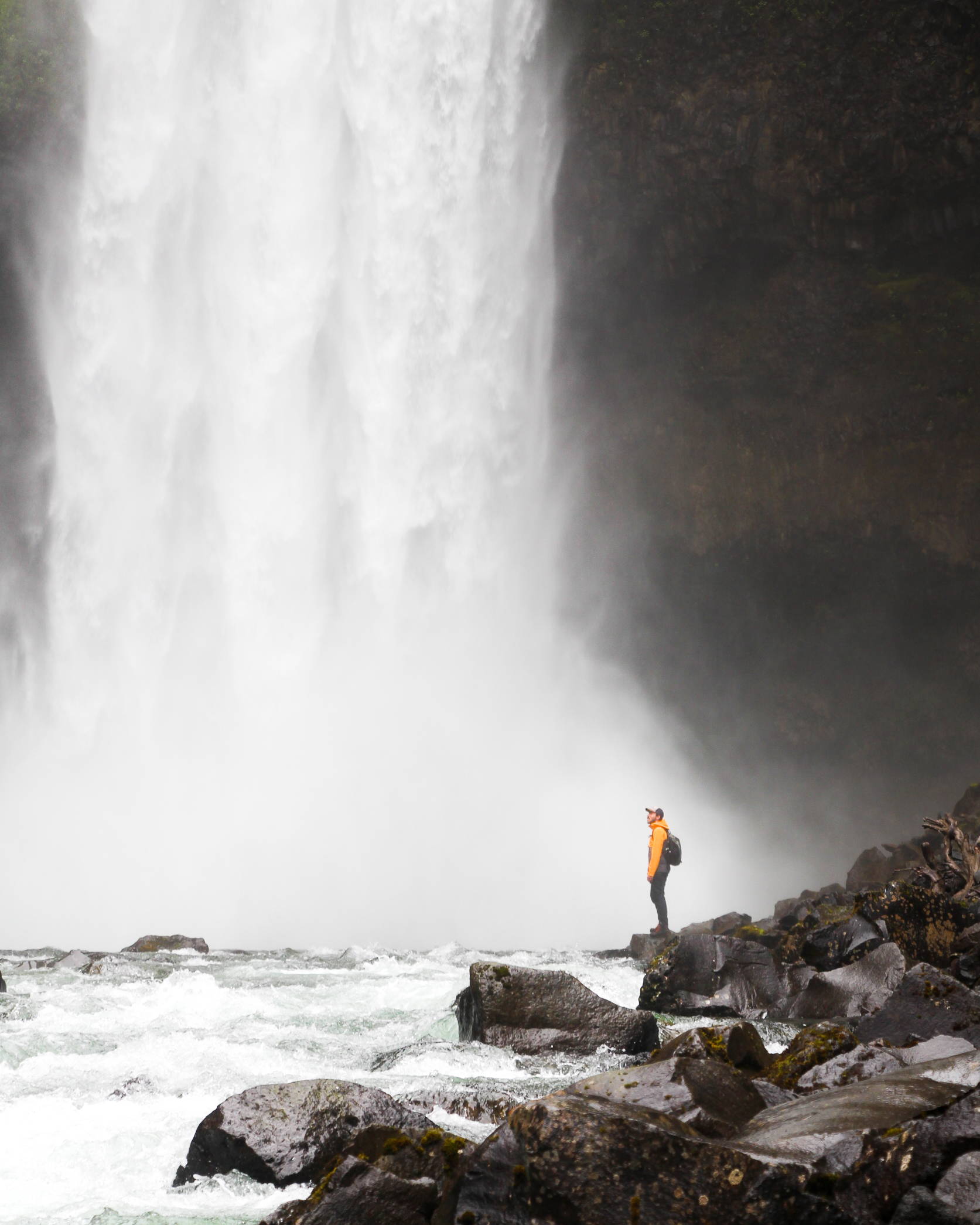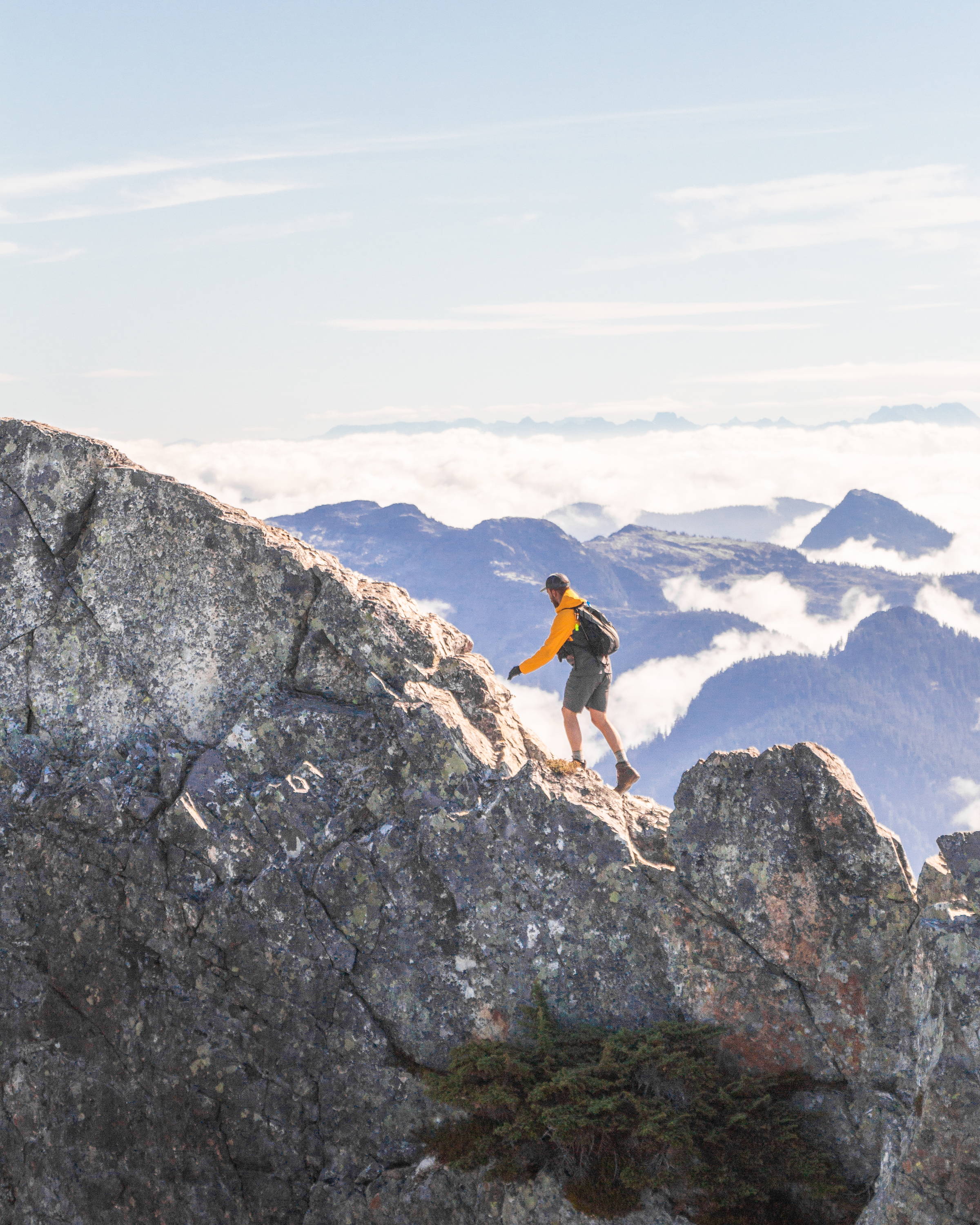 ---
THE BEST BOOTS FOR HIKING IN BRITISH COLUMBIA
---