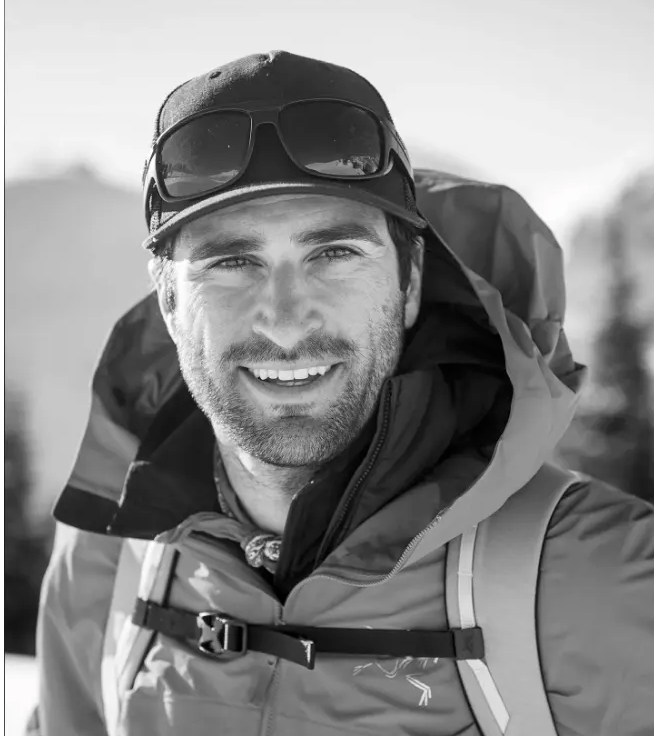 ---
I was born and raised in the mountains of the BC Coast Range. I began skiing at two years old got my first sponsorships at 15. I travelled the world as a professional mountain sport athlete for over 15 years and I'm always chasing the thrill of exploring the mountains year round. These days I work in the stunt department for films as a rigger and performer and in my time off I enjoy being outdoors; skiing, climbing, flying, mountain biking and playing my guitar at the edge of the river near my house. 
What outdoor activity are you most passionate about, and how did you get started in it?
My favourite outdoor activity is the art of free flight. Specifically flying paraglider's of all sizes ranging from my 39m tandem wing all the way down to my custom 6.5m speed riding wing.
What's the most epic trip you've ever taken?
I'm fortunate to have had the opportunity as a professional skier to travel to some of the most unique and remote mountain destinations around the world. It's very hard to choose one specific trip as they all have seared memories into my mind that will last a lifetime. A couple examples that come to mind: I rode behind a horse drawn sleigh for three days in Northern China to ski tour in the Altai mountains, I've camped on a glacier in the Tordrillo Range of Alaska to hunt massive spine lines to climb and ski, I've flown in the clouds of central Mexico and raced my speed wing down steep un skiable faces in France, Switzerland and Canada…
What is your biggest/favorite outdoor adventure achievement to date?
My favourite achievement is any time I get to utilize my specialized skill set and combine my love of different sports to explore zones and perspectives that are fresh to my eyes. So I guess each time I'm out in the mountains and complete my goal and arrive home safely is my biggest achievement.
Which charity/advocacy organizations do you support or belong to?
WAG which helps foster and find homes for animals that have been neglected or abandoned.
What is your favorite pair of AKUs, and where do they usually take you?
My Selvatica Mid GTX! Best all around footwear for hike and fly adventures and vol biv.
What is the most important piece of gear in your pack (excluding footwear)?
Probably my GPS and that extra down layer for when the sun goes down.
What do you hope to accomplish next in the outdoors?
This year I have plans for more vol biv trips in the Coast Mountain Range which is essentially "sky camping" meaning to fly my paraglider km's before landing in the alpine, watching the sunset and then launching again the next day and continuing to fly to the next destination. I've also got a hit list of mountains in my home zone that I want to summit and fly my speed wing from.
---