GORE-TEX is a proprietary membrane that is integrated into every one of our waterproof boots. Combined with our AIR 8000 fabric technology it provides both unparalleled waterproofness and breathability. All GORE-TEX® products carry our GUARANTEED TO KEEP YOU DRY™ promise.
Keeps your feet dry, even in standing water
Keeps your feet warmer in colder environments
Increased breathability reduces moisture build up
Helps to reduce hot spots and blisters
All GORE-TEX membranes feature pores that are approximately 20,000 times smaller than a drop of water but 700 times bigger than a molecule of moisture vapor. So, whilst water droplets cannot penetrate the GORE -TEX membrane, moisture vapor, namely perspiration in gas form, can easily escape. GORE-TEX® has developed 3 specific types of membrane for the footwear sector, each with specific functional properties.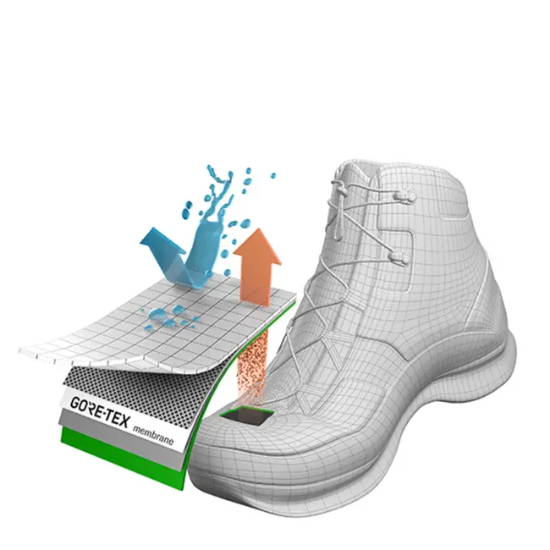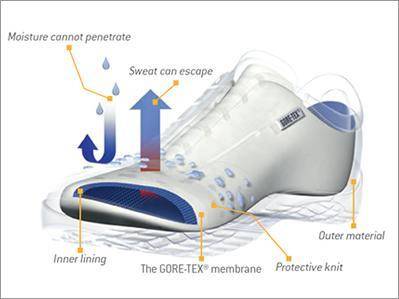 GORE-TEX EXTENDED COMFORT
Ideal for moderate or warmer weather conditions. Exceptional performance in high-output activities and everyday use.

Key advantages:
- All-year indoor comfort and outdoor protection.
- Extremely breathable to prevent feet from overheating.
- Optimum heat conductivity and excellent moisture management ensure all-day climate comfort inside the shoe.
- Durable waterproof protection.
GORE-TEX PERFORMANCE COMFORT
Moderate insulation to keep feet dry and comfortable during outdoor
activities in a variety of weather conditions.

Key advantages:
- Moderately insulated for changing conditions
- Optimal combination of breathability and insulation keep feet warm and dry, even in unexpected weather
- Durable waterproof protection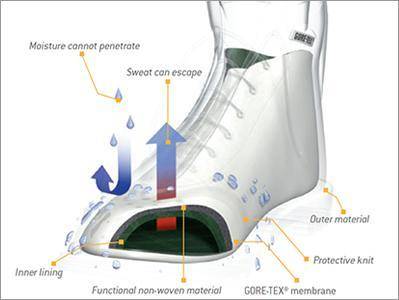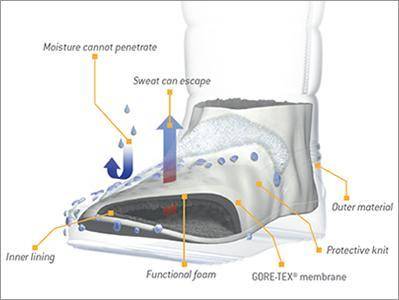 GORE-TEX INSULATED COMFORT
Offers a range of insulation options to keep feet dry and comfortable in
cold to very cold temperatures. Designed for the winter, they keep feet
warm and dry all day long, even in rain, snow and ice.

Key advantages:
- Various insulation options available, enabling selection of the right shoe for a particular winter activity
- Optimal combination of breathability and insulation keeps feet comfortable, never sweaty
- Durable waterproof protection keeps moisture out